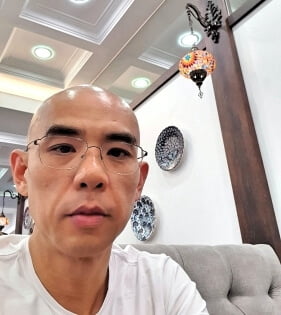 My name is Andy Teh. I live on the beautiful island of Penang, Malaysia, where I was born and spent my formative years.
Having been abroad, where I received my education and postgraduate training, for over 22 years (during which I visited Malaysia only once), I returned to my hometown in 2003 when the opportunity arose to help a local private hospital achieve international accreditation – a first for the country!
I've settled down by the beach in Tanjung Bungah, a quiet suburb on the island's northern coast. I know this area like the back of my hand – I lived here as a child before moving overseas.
I am best known for my work as a healthcare quality consultant. Jimmy Stewart, playing defense attorney Paul Biegler in Anatomy of a Murder, said, "People are many things." I am no exception – my other roles include:
Founder-owner, Chief Executive Officer, and Chief Operating Officer of a healthcare consulting firm;
Mentor to healthcare quality and patient safety professionals in all corners of the globe;
Coach to persons aspiring to become certified professionals in healthcare quality (CPHQs);
Husband;
Father to a teenage son;
Ulcerative colitis patient;
Irritable bowel syndrome (IBS) battler;
Cycling enthusiast;
Ergonomic keyboard hobbyist;
Weekend home improvement warrior; and
Continuous learner of diverse topics.
My healthcare consulting firm, Teh & Associates, has been operating from Penang since 2009.
DrAndyTeh.com (Dr Andy Teh dot com) is my personal blog, where I share my thoughts on several topics of interest to me:
Some visitors to this site might look for one of two other things (for which they have sought my help in the past):
How to install the meta-analysis commands metan and metafunnel in Stata. I wrote this post on one of my earlier blogs in 2012. I ported the post to this site because of its historical popularity and presumed usefulness to those on older versions of Stata. See all my posts on Stata.
Vintage mechanical keyboards, particularly International Business Machines (IBM) Model M and Model F keyboards. I collected these buckling-spring switch, aka "clicky," keyboards for several years. What started as a curiosity about the IBM Model M keyboard turned into an obsession with its predecessor, the IBM Model F. I preferred the key switch feel and the overall quality of the IBM Model F keyboards. In my quest to own the perfect daily-driver keyboard (which turned out to be an IBM Model F PC/AT), I gained a surplus of keyboards and parts through several obscure sources. I have sold most of these items to other international mechanical keyboard community members. To help with my wrist repetitive strain injury (RSI) and bilateral carpal tunnel syndrome (CTS), I now use a Kinesis Model 100 (contoured keyboard). I still have some vintage IBM keyboard parts, which I will probably sell in the future. Among my collection are some genuine (non-repro) IBM Model M/F keycaps for sale – get in touch if you need the odd replacement keycap or two.
You can reach me by filling out this contact form. I almost always reply within 24 hours.